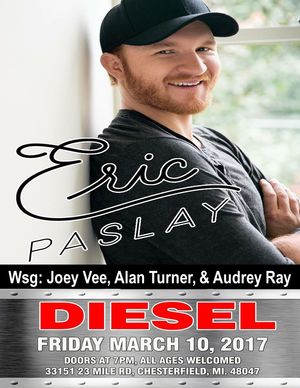 Joey Vee and the band will take the stage to open the show for National Recording Artist Eric Paslay Friday March 10, 2017 at the Diesel Concert Lounge in Chesterfield Township, Michigan! Also performing will be Alan Turner and Audrey Ray.
In mid-2011, Paslay signed to EMI Records Nashville. He has released four singles for the label. His third, "Friday Night", was a Top 5 hit on Country Airplay in early 2014. The song was originally recorded by Lady Antebellum, and Paslay's version appears on his debut album, released in early 2014. 
He also co-wrote Jake Owen's "Barefoot Blue Jean Night", the Will Hoge/Eli Young Band song "Even If It Breaks Your Heart", and Love and Theft's "Angel Eyes" all of which were number 1 singles on the country charts. He has written album cuts for Lady Antebellum and the Rascal Flatts 2014 single "Rewind". 
In 2013, Paslay appeared on Amy Grant's album How Mercy Looks from Here, sharing lead vocals with Grant and Sheryl Crow on a song he wrote called "Deep As It Is Wide". In publicity for the album, Grant stated that she is most excited about Paslay as an up-and-coming artist.
Paslay is featured alongside Dierks Bentley on Charles Kelley's debut solo single "The Driver" which was released on September 28, 2015. "The Driver" received a Grammy nomination for Best Country Duo/Group Performance for the 58th Annual Grammy Awards. This is Paslay's first Grammy nomination as a recording artist. 
In October 2015, Paslay released "High Class" as the lead single to his upcoming second studio album. The album's second single, "Angels in This Town" released to country radio on July 18, 2016.